Celestyal Cruises has unveiled a refreshed logo and announced further details on its new ship Celestyal Experience.
The new ship, formerly Costa neoRomantica will enter service on 6 March 2021 from Piraeus, visiting Alexandria, Port Said, Ashdod, Limassol, Rhodes and Kusadasi. The 1,800 passenger ship will operate seven- and 14-night itineraries, taking over the operations of Celestyal Crystal.
Celestyal Crystal no longer has any scheduled sailings planned, with Celestyal's Chief Operating Officer Leslie Peden admitting they "are evaluating a number of options" and her future with the company is "yet to be determined."
With the exception of a funnel modification and new livery, Celestyal Experience will not be refurbished, but the ship is already in excellent condition, with Costa recently spending €90 million on a full transformation of the ship.
One of the outstanding features of the Celestyal Experience is its expansive 47,300 square-foot panoramic spa spread across two decks, complete with a fully-equipped gym offering ocean views, thalassotherapy baths, massage rooms, saunas and a range of thermal suites. The impressive spa also includes a Japanese style tea parlor, which will feature a wide variety of rare teas including local remedial herb and mountain teas.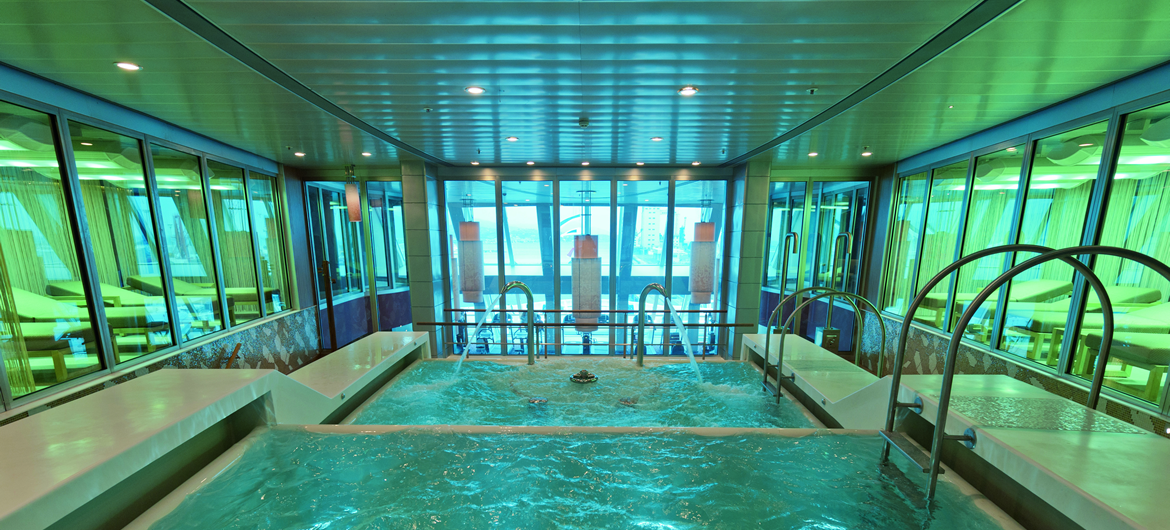 A Celestyal first, is the introduction of  four new 'Wellness Spa' stateroom categories with a variety of spacious balcony, sea terrace and veranda suite accommodation. Exclusive use of Deck 14 ensures the most serene and tranquil area of the ship. Complimentary and unlimited access to the wellness and spa area is included featuring relaxation options, most notably the thalassotherapy baths and thermal suites. The Wellness staterooms will also ensure priority access to specialty dining experiences and a new, exclusive Beach Club concept.
Carrying 100 passengers more than Celestyal Olympia, the ship features 166 suite category staterooms, 132 of which are junior suites, all with balconies, and 34 Suites, including 22 with balconies; six with bridge-view verandas and six Grand Suites boasting large sea terraces.
Guests booking suites higher than junior suite categories on the Celestyal Experience will have access to the Celestyal Cruises Suite Concierge service, which features a dedicated priority check-in counter, expedited embarkation, an exclusive dining area onboard, and express luggage delivery service including assistance with unpacking.
Among the new dining venues will be a Greek grill & deli, featuring local favourites. Casual food featuring traditional recipes and locally-inspired pizzas prepared in an authentic wood-burning oven will also be on the ship's menu. Premium tasting experiences featuring acclaimed Mediterranean wines, olive oils, cheeses and other featured specialties will be just one of the new concepts.
Beginning 3 April, 2021 the Celestyal Experience will then set sail on the seven-night Idyllic Aegean itinerary visiting Athens, Rhodes, Crete, Santorini, Milos, Mykonos, and Kusadasi.
Later in the season, the Celestyal Experience will operate the Eclectic Aegean itinerary, a 7 night voyage which introduces the historical city of Thessaloniki, the gateway to the land of Alexander the Great, as a new embarkation port. In addition to the highlights of an overnight stay in Istanbul and the breathtaking 'hanging monasteries' of Meteora this exceptionally unique itinerary also includes a visit to the site of Ancient Troy.
Cruises on Celestyal Experience for a standard, all-inclusive inside cabin start from £519 per person, and a junior suite is from £1,379 per person. Prices include drinks, selected shore tours and a new COVID-19 insurance.
Celestyal Cruises says it is working closely with the Greek health authorities to create new health protocols. It will also be introducing pre-boarding COVID-19 tests similar to MSC Cruises and Costa Cruises.