Marco Polo looked beautiful as I walked along the quayside at London Tilbury. Although I was only spending one night onboard, I was looking forward to exploring this golden gem, as the ship sailed to Hull for the very first time.
The ship is fairly simple to navigate, thanks to nearly all of the public venues located on Magellan Deck 8. Public rooms are certainly not glitzy, instead they are intimately sized, comfortable and tasteful for the market Cruise & Maritime Voyages attracts.
It was a joy to escape the floating cities of modern cruise ships and return to a more traditional aspect of ocean travel, where the primary aspect is comfort and a connection with the sea. I would happily return for a longer cruise on the ship. Marco Polo maybe a veteran vessel built in 1965 as Alexander Pushkin for the Soviet merchant fleet, but inside she is a warm and stylish ship perfect for British travellers and as the cruise director continually explained, she is a "friend-ship."
The Livingston Library features many popular and informative reads, although when I went in the bookshelves looked a mess with books littered everywhere.
The Boutique and duty-free shops were surprisingly large for a ship the size of Marco Polo. The nearby Nansen Card Room is a small room dedicated to card games as well as a variety of puzzles, jigsaws and board games provided. This is also where various port plaques and the original ship's bell are located.
The main lobby is located on Deck 8 and comprises of the Reception and small seating area on one side and the Shore Excursions Desk and Future Cruise Office on the other. In between both areas are the midship lifts and stairwell.
My Superior Twin Ocean View Cabin (#649) on Amundsen Deck 9 was rather quirky. The TV was dated and awkwardly perched on a pole fixed to the floor. The wardrobe was small, but draw space was decent. The cabin window overlooked the promenade deck, but was mirrored so that people could not see in. The cabin was small compared to modern ships, but nevertheless comfortable and made use of the available space.
Waldorf Restaurant (Deck 6, fwd)
Open for breakfast, lunch and evening dinner, the Waldorf Restaurant is the main dining room on the ship. Featuring a subtle Orient theme, intimate booths line both sides of the restaurant, with a raised central section which has a decorative ceiling panel and home to larger sized tables. The food was great and appealed to a wide range of tastes.
Marco's Restaurant (Deck 8, aft)
Open for breakfast, lunch, afternoon tea and evening dinner, the rather small Marco's Restaurant is the main buffet on Marco Polo. The food selection was decent and an outdoor grill is located just outside serving pizza and burgers.
Columbus Lounge (Deck 8, mid)
I immediately fell in love with the Columbus Lounge as soon as I walked in. This nautical-themed, yet contemporary bar had a great ambience and was more like stepping into someones living room, where conversations and a friendly vibe were constantly flowing.
Palm Garden (Deck 8, mid)
Palm Garden is a quiet place to spend a leisurely day at sea and is secluded by decorative plants. Large windows overlook the sea and provide lots of natural light.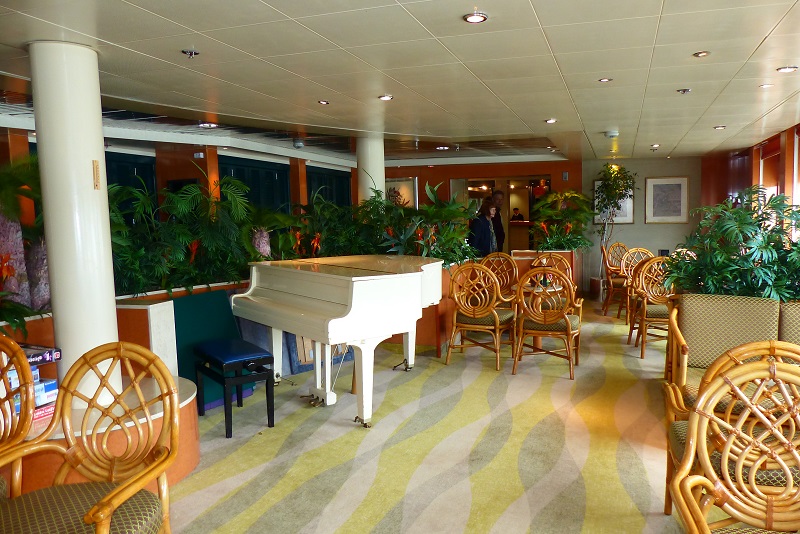 Captain's Club (Deck 8, fwd)
With its modern decor, the Captain's Club is another great venue to enjoy a drink in. Featuring a spacious dance-floor, this is where live musicians such as the ship's pianist and violinists perform in the evening and at various times during sea days.
Scott's Bar (Deck 9, aft)
Scott's Bar, located overlooking the fantastic aft terrace area, is a popular lounge bar and nightclub located on Deck 9. I loved the vibrant decor of this venue and during the one-night sailing the nightclub was very popular, so much so that I could not even get in, which was a shame. The dance-floor was packed and the venue was so busy, that people had dragged chairs inside from the outdoor terrace area.
Marco Polo Lounge (Deck 8, fwd)
Situated at the very front of the ship on Deck 8 is the Marco Polo Lounge. This is the main show lounge onboard and is very impressive considering the size of the ship. The singers and dancers, put on a great show during my one-night sailing dedicated to songs from the 50s and 60s called "Rock & Roll Dreams." Although I had seen the show before in March on Astoria, even with several of the same singers and dancers, the production element of the show was much better thanks to the larger stage on Marco Polo.
Jade Wellness Centre (Deck 10, aft)
Deck 10 is home to the Jade Wellness Centre which is spacious and offers a variety of beauty treatments. The gym is large for a ship of this size and an exercise room with sea views is located next to the gym. This is where the table tennis is positioned.
Outdoor space on Marco Polo is amazing. The ship features a beautiful terrace area that spans from Deck 11 down to Deck 8. The ship has one main pool on Deck 8, which was a good size, as well as three hot tubs on Deck 11. Sadly Marco Polo lacks an outdoor area on the top deck, as this is closed to passengers. The main outdoor spaces are located overlooking the aft of the ship, but there is a spacious forward viewing area under the bridge, that is a great viewpoint for arrivals and departures from ports of call. The wide promenade deck is situated on Deck 9, but climbing a set of stairs is required to complete a full circuit. A smaller wrap-around outdoor walkway is located on Deck 10 and is mostly blocked by the lifeboats, but this is the main jogging track for use after 8 a.m..
Overall, Marco Polo offers a traditional British cruise experience. I would happily return for a longer cruise on this veteran ship, which offers a wide range of onboard venues, and a warm and friendly atmosphere onboard.