Frustrated at being unable to charter MSC cruise ships at short notice for private lavish parties for up to 3,500 invited guests? Then why not commission the building of a private cruise ship!? That's exactly what Colonel Gaddafi's son did.
Gaddafi's fourth son, Hannibal, made the Libyan state-owned General National Maritime Transport Company order a 140,000-tonne vessel. The requirement was for a cruise ship similar to MSC's Fantasia class, and a deal was struck in June 2010 with the STX France shipyard at St Nazaire with a scheduled delivery for December 2012.
The 36-year-old, who controlled the country's maritime industry and seaports, ordered the gold-painted ship to entertain 3,500 guests in style, after becoming frustrated that he was unable to charter cruise ships from MSC Cruises at short notice.
"They had great difficulty understanding that cruise ship holidays are sold a year in advance, so there's no way you could ever find availability of a cruise vessel at the notice he gave," Pierfrancesco Vago, MSC's chief executive stated back in 2012.
Named after the ancient civilisation that first settled in Libya, the ship was to be named Phoenicia. The ship would boast 18 decks, four swimming pools, 26 lifts, 21 bars, and a bowling alley.
I know what you're thinking. The ship seems far too normal so far for a regime leader. Fear not, at the heart of the ship in the reception and atrium area, was going to be a giant shark tank! The aquarium was going to be flanked by marble pillars, gold-framed mirrors, and ornate statues, virtual waterfalls, and glass walkways over the aquarium. The seawater chamber would have been home to six sharks in total – two sand tiger sharks, two white sharks and two blacktip reef sharks. Four full-time biologists would have been responsible for the wellbeing of the sharks, with a dedicated on-board food source (and potentially feasting on any guests Gaddafi didn't favour with!)
During construction, the Libyan civil war broke out and in June 2011, STX France canceled the contract, and began looking for a new buyer of the hull. Hannibal Gaddafi fled from Libya to Algeria together with other members of the Gaddafi family, and his father Colonel Muammar Gaddafi was killed by rebel fighters on October 20th 2011.
With suddenly a half-built cruise ship with no future home, STX France needed to find interest from a new owner quickly. Naturally, with a cruise ship inspired by previous MSC Cruises vessels, it was logical that the shipyard first approached MSC Cruises.
"Negotiations with STX France have lasted over nine months; a significant but understandable period of time considering the importance of the investment and the unexpected nature of the takeover," Pierfrancesco explained at the time.
The negotiations involved the financial terms for the transaction and a "cleaning up" of the interior to fit MSC's corporate style. "There were some public spaces with some very particular and peculiar architectural taste – lots of gilt," Mr Vago said.
After both companies came to an agreement, MSC Cruises announced it would spend £460 million bringing the ship up to standards to welcome the former Phoenician into the fleet from March 2013. Now renamed to MSC Preziosa, the ship was remodelled, removing the shark tank, in favour of an elegant atrium with Swarovski diamond stairs, and adding 69 yacht club suites to the top decks of the ship.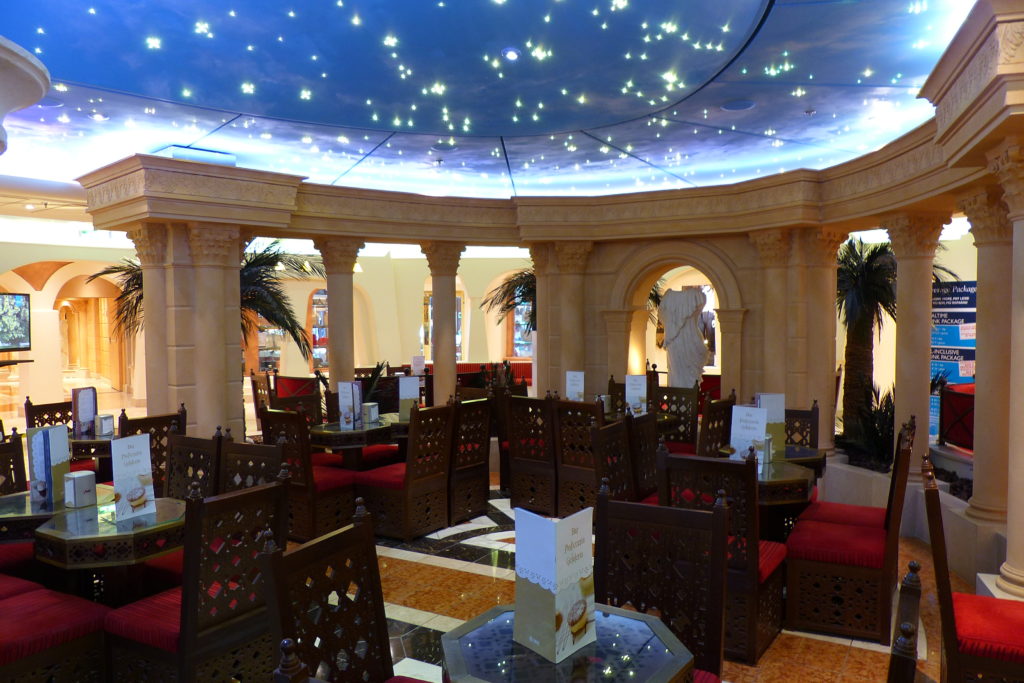 Today, any traces of Gaddafi's influence have been removed and the ship is just like any other MSC Cruises vessel – glitzy and glamorous. One final reference to the cruise ship's past and former name does still remain onboard, which I love the fact that almost every cruise passenger to have sailed on MSC Preziosa would never have paid much attention to. On deck 6, you'll find the Phoenician Plaza. Inspired by the ancient founders of Libya, the space features an ice cream and milkshake parlour, surrounded by boutique stores.
Do you think MSC Cruises were sensible removing the giant shark tank, or would you have been interested in seeing this unique feature remain onboard? Let us know in the comments.