Once boasting six cruise ships in its fleet, the former Regency Cruises has almost all been forgotten to history, and I have to admit, myself included had never even heard of this cruise line, until recently discovering details on its fascinating history and its abandoned cruise ship called Regent Sky.
Battling through the unrelated search results for the similar sounding Regent Seven Seas Cruises, I wanted to share the history of Regency Cruises and the story of its abandoned ship which laid dormant right up to 2011.
The Rise of Regency Cruises…
The cruise line was founded in 1984 by two former directors of Paquet Line, Anastasios Kyriakides and William Schanz. Both owners were experts at turning old ocean liners and ferries into cruise ships. This was a time when the modern purpose-built megaships that are common place today were still just concepts on paper. It was a time when cruising was just starting to get its big boom in popularity, and the conversion and operation of old ships was common practise.
Regent Sea (pun definitely intended) was the first ship acquired by Regency Cruises in 1984. Built right back in 1957, it originally sailed as Gripsholm for Swedish American Line. The cruise line aimed to provide first class service, reminiscent of the former 'golden age' of ocean liners. The company had a successful first season, operating weekly cruises out of Montego Bay, and was subsequently taken over by The Lelakis Group.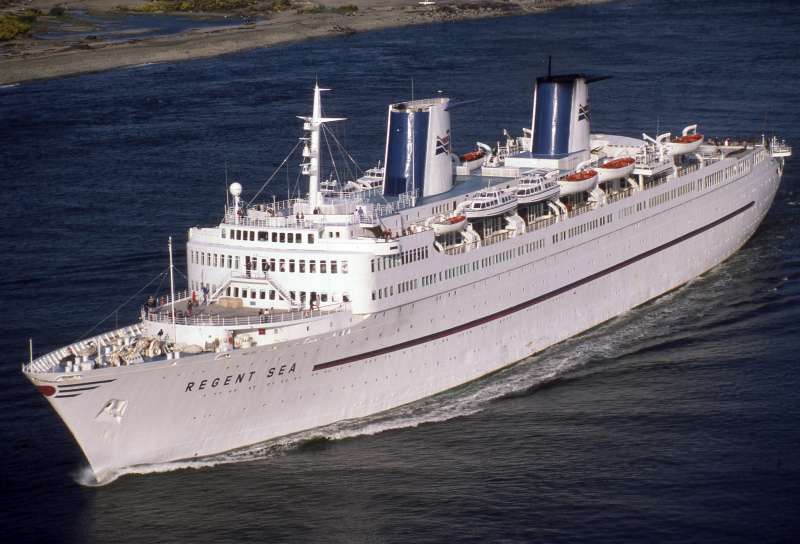 This takeover saw the company transform into a budget cruise line, dropping the previous high standards to focus on costs. This move also saw the cruise line rapidly expand.
In 1986, the cruise line introduced Holland America Line's former 1956-built Statendam, which was renamed Regent Star.
In 1987, two former container ships were planned to be converted for cruise operations, and were to be named Regent Sun and Regent Moon. Plans changed and the ships were laid up instead. Eventually, these were sold off and converted by Costa Cruises, becoming Costa Marina and Costa Allegra.
Rather than a costly conversion, Regency Cruises decided to add the former 1964-built Shalom to the fleet, as it required less work. That took the name Regent Sun, instead. Regent Star and Regent Sun expanded Regency's destinations to include the Caribbean and Alaska.
In 1992, Regency Cruises added Regent Spirit, the former Constellation for Hellenic Cruises, as well as Regent Rainbow, which later became The Emerald for Thomson Cruises. Its final cruise ship to enter service was Regent Jewel in 1993, which later became The Calypso also for Thomson Cruises. In 1995, Regency Cruises chartered the former P&O Cruises Fair Princess. They planned to operate the ship – under the name Regent Isle – for the start of the 1996 cruise season, but things were about to change, and the ship would never enter service.
All of their six ships that successfully entered service, carried between 400 and 960 passengers and were originally built between the 1950s and the 1960s.
As the 1990s rolled in, Regency Cruises had bold plans for the new decade. As more new modern and larger ships began to take over the industry, Regency Cruises decided to look at newer tonnage, in a bid to compete with other cruise lines.
The Turbulent History of Regent Sky…
Stena Line ordered a new ferry called Stena Baltica in 1979. She was to be one of four identical ferries – Stena Germanica, Stena Scandinavia and Stena Polonica. It wasn't until 1985 that the ship was actually laid down. Due to countless problems at the Gdansk shipyard, construction was cancelled and work on the unfinished hull ceased. The issues also resulted in delays to the other sister ships, with Stena only ever taking delivery of two of the four sister ships.
The ferry company also cancelled the order for Stena Polonica in 1986 due to several long delays and none of the equipment for the interior being produced. This unfinished hull was picked up by Fred. Olsen in 1988 and unofficially renamed Bonanza. It remained laid up for another year before being resold to ANEK Lines in Greece.
In 1989, Regency Cruises planned to launch its first new cruise ship. Spotting an ideal opportunity, to speed up construction, Lelakis Group sought to purchase the unfinished hull of Stena Baltica, which at this stage only consisted of the bilge and steel work as high as the bow. The current hull allowed them to create several bespoke decks to cater for their planned vision.
The cruise line towed the hull to the Avlis Shipyards at Perama in Greece. As part of a $200 million construction project, the vessel was renamed Regent Sky, the existing hull was lengthened by 50 meters, and 7,000 tons of steel were added. The ship was now 228 meters in length and once complete would have been 55,000 GT and able to carry 1,600 passengers. Things were looking promising, and then everything stopped.
The Fall of Regency Cruises…
On 29 October 1995, Regency Cruises announced it had ceased operations and filed for bankruptcy, owing secured creditors $20.28 million and unsecured creditors $21.75 million. The budget operations that had initially saw company success, were also the cause of its financial problems.
Maintenance and operating costs of old ships and limited onboard revenue streams compared to newer larger ships, meant Regency Cruises found it difficult to keep up with the rapid change and expansion the cruise industry saw in the early 1990s. Newer ships with more passengers, larger casinos and more bars, meant lines such as Carnival, Royal Caribbean and NCL, could price cut their fares and still make money. Regency Cruises could not.
According to the book Devils on the Deep Blue Sea, in its final days, things got desperate and the cruise line did everything it could to keep passengers onboard. When the toilets broke on Regent Sun, most other lines would have cancelled the cruise, instead, Regency just provided several portable toilets, which were loaded onto the aft deck. Also when the air-conditioning system failed on the same ship, it was not repaired. Instead, newly embarking guests were told the air-conditioning would simply kick in when the ship was out at sea. Of course, this was just a lie.
The same book also says that when one of their ships were arrested on behalf of a creditor by the Honduran authorities, the hotel manager offered a lifeboat and a room steward as collateral to continue the cruise!
Around 30,000 passengers claimed money from the creditors against the cruise line. Leading up to the collapse, staff had been unpaid for weeks, and left stranded on empty cruise ships. Reports said staff sold televisions, emptied the ships safes, and flogged other fixtures onboard to make enough money to buy food for the remaining crew onboard, until they were able to fly back home.
The Bleak End of Regent Sky…
With Regency Cruises entering bankruptcy in 1995, work on the Regent Sky new build stopped. The ship was roughly 60% finished when it was seized by the National Bank of Greece. During the conversion, her main engines had been installed, but after bankruptcy when the bank took over the ship, the engines had disappeared! This left Regent Sky unable to move without being towed. The foremost part of her bow superstructure was never completed.
The ship entered a period of uncertainty, being moved to different lay-up berths around Greece over the next 16 years in search of a new home. In 1999, the ship was sold to Sea Nomad Maritime, with a plan on completing the construction, although this never materialised and any work that had begun was stopped by 2001.
By this point, Regent Sky had rusted heavily, making any chance of a sale or successful future extra challenging.
Throughout the years, the owners desperately tried to auction off the vessel, but all attempts failed, and no buyer could be found. It took until 2011, before the decision was made to call it an end and scrap the ship. The ship was renamed Zoe and towed to the scrapyard in Aliaga, Turkey, where it was recycled.
What a sad end to a bizarre story of rapid growth and rapid change. I've learned a lot about this troubled cruise line. Regent Sky remains a ship that never was, despite initially having great potential. It would have been interesting to see what would have become of her if Regency Cruises had remained successful, but sadly the changing expectations of cruise passengers and Regency's failure to adapt in time, means we'll never know what the future would have held.