A rendering of a new area believed to be introduced on Royal Caribbean's new ship Wonder of the Seas has been leaked online.
100architects, a Shanghai-based public realm architecture studio, has released several renderings of a multi-level children's play area, which appear to show giant tree houses, hideaways, slides, light features, workshop and creative spaces, as well as a mini golf course.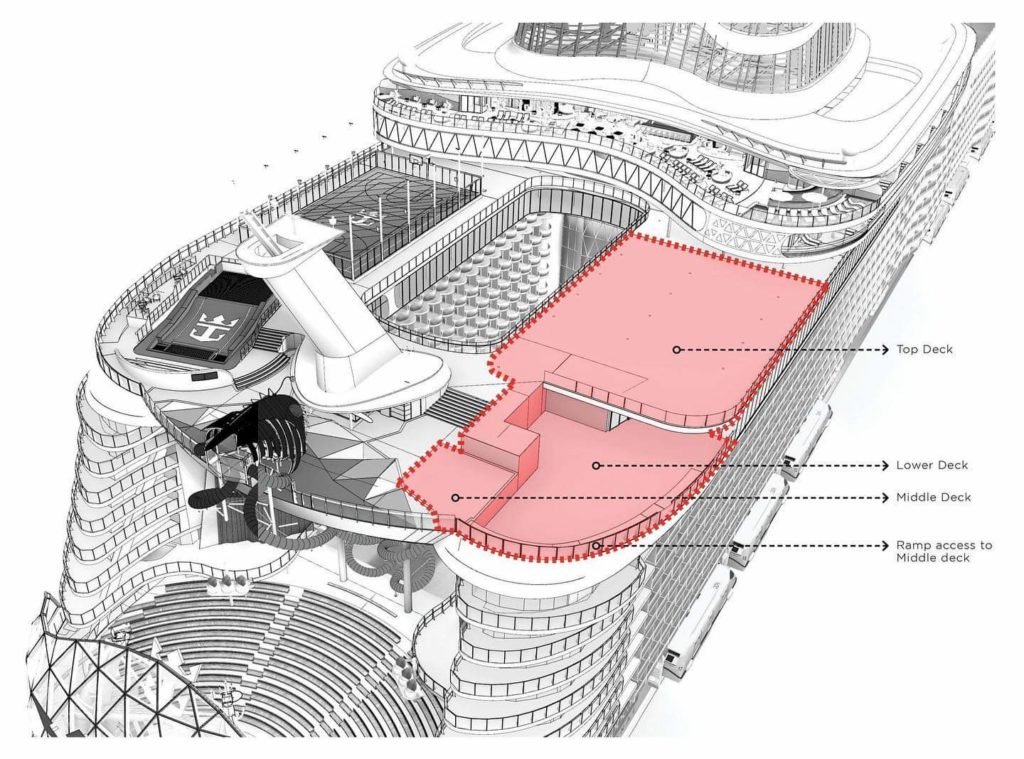 A description on the 100architects website, explains: "The design includes two decks; the lower which is the main playground space where surreal trees and gigantic flowers rise to the sky creating structures for habitable houses with playground functions inside. This area is both, a playground and an open public space inside the cruise where kids and adults can find fun activities to explore."
"Featuring 9 holes, the mini golf also includes shading structures and playing elements, seating features and playful objects that invites everyone to come out to play.
"This colorful playscape immerses the users in a surrealist world, where big flowers work as sun shading objects and tree houses including playful features to free kids' imagination. Each house contains a different activity taking into account both, aspects of children's development, as well as being fun and safe to use."
The colourful new attraction takes up the space which is usually occupied by a Flowrider and a mini golf course on other Oasis class ships.
No name has been given for this new area, although we can likely expect something to tie in with the treetop garden theme. The 100architects project is named "Funky Tree Houses" and of course, this area still is not guaranteed to feature on the ship, until Royal Caribbean make an official announcement.
Recently, Royal Caribbean announced Wonder of the Seas will not be heading to China as originally planned in May 2021.
"The coronavirus pandemic has caused an unprecedented impact on the global cruise ship industry and the construction of the new Wonder of the Seas was delayed due to the impact of it in shipyard operations," said the company in a statement.
The ship is still planned to sail from Shanghai, although no new timeframe has been given by Royal Caribbean as to the new delivery date of Wonder of the Seas.