---
Navigate Carnival Mardi Gras:
Deck 4 | Deck 5 | Deck 6 | Deck 7 | Deck 8 | Deck 9 | Deck 10 | Deck 11 | Deck 12 | Deck 14 | Deck 15 | Deck 16 | Deck 17 | Deck 18 | Deck 19
---
Deck 9-15 – Staterooms
The majority of standard accommodations can be found on Decks 9 through to 15. These range from basic and premium Interior staterooms, up to bright Balcony staterooms and the huge brand new Excel Suites, some of which come with their own hot tub!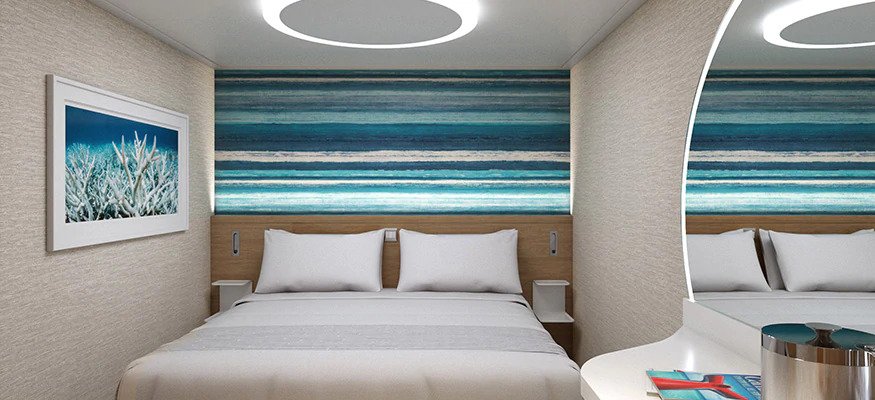 The Excel Suite features a unique layout, with an in-bed TV, walk-in wardrobe, living space, and dining table in both the stateroom and on the large balcony.
By far the best Suite on the ship is the Excel Presidential Suite. These feature a private bedroom closed off from a large living space, which includes an L-shaped sofa, dining table, bar. Step outside and you'll have plenty of space on your huge balcony that extends over the side of the ship above the bridge. On your balcony, you'll find a seating area, dining table, loungers, day beds, and a private hot tub.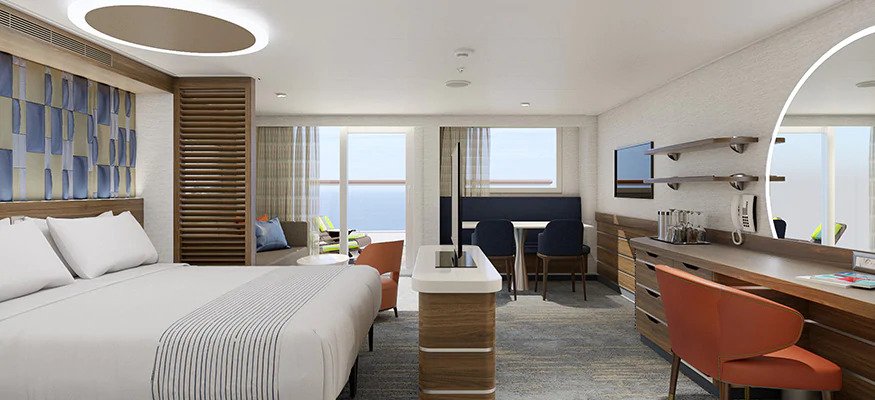 The Excel Corner Suite, still benefits from the Presidential Suite's twin-room layout, but does feature a significantly smaller, yet still very large wraparound balcony. If you're still looking for a balcony as impressive as the Presidential Suite, then you'll love the Excel Aft Suite. Overlooking the wake of the ship, these panoramic balconies also feature lots of outdoor furniture and your very own private hot tub, as well as the comfort of a private living room and private bedroom. All Carnival Excel Suites offer complimentary access to Loft 19, plus priority cabana reservation. You'll also receive sparkling wine and fruit bowl upon arrival and a Bottomless Bubbles soft drink package.
Whether you opt for a lead-in grade Interior or the lavish luxury Suites, all accommodations on Mardi Gras feature a mini bar, storage ottomans, interactive television, ample wardrobe space and draws, a powerful shower, and plenty of power and USB outlets.
---
Deck 16 – Staterooms, BlueIguana Cantina, Seafood Shack, Street Eats, Beach Pool, RedFrog Tiki Bar, Lido Marketplace, Big Chicken, Tides Pool
Arriving at the Lido area, the complimentary BlueIguana Cantina remains the perfect poolside eatery for fresh tacos, burritos and salsa.
New for Carnival's Mardi Gras is the free Street Eats. Here, you can sample the many amazing street food favourites from around the world. Three distinctly themed counters will specialise in everything from steamed bao buns, to kebabs, falafel, fries, satay, and fish cakes. Also located here is the Seafood Shack ($), serving up rustic favourites like crab cake sliders, lobster BLT, fried buffalo shrimp, and the best clam chowder, all reasonably priced a la carte.
These amazing eateries surround the tropical Beach Pool, which is also where you'll find the huge Dive-In Movies screen.
On Carnival's latest ship, RedFrog Rum Bar has evolved into the South-Pacific inspired RedFrog Tiki Bar and will span two decks on Carnival Mardi Gras. Serving Polynesian Punch, Jungle Bird, and all the usual favourites such as Red's Rum Jumper, this bar transports you right to the land of Tiki.
The Lido Marketplace has received a resort-like transformation on Carnival Mardi Gras, with tranquil shades of tropical blue, sea green and beach white. Here, you'll be amazed at the wide choice of food available.
Debuting on Carnival Mardi Gras is Big Chicken. Carnival's CFO (Chief Fun Officer) Shaquille O'Neal has created a new complimentary chicken joint. Filled with Southern wholesomeness, the menu features chicken sandwiches, crispy chicken strips, juicy fried chicken baskets, plus side dishes, like potato salad, spicy pickles and flavourful criss-cross fries.
At the very back of Deck 16, you'll find the third pool on Carnival Mardi Gras – Tides Pool. This is surrounded by two large communal hot tubs, and plenty of lounge benches and sun beds.
---
Deck 17 – Staterooms, Guy's Burger Joint, Circle C, Club O2, The Warehouse
Guy's Burger Joint is undoubtedly the best burger bar at sea, we'd even go as far to say the world! Who needs five guys, when you can enjoy Guy Fieri's popular burger shack. Like on all Carnival ships, these gourmet fresh-off-the-grill burgers and those sweet, crispy hand-cut fries are all complimentary.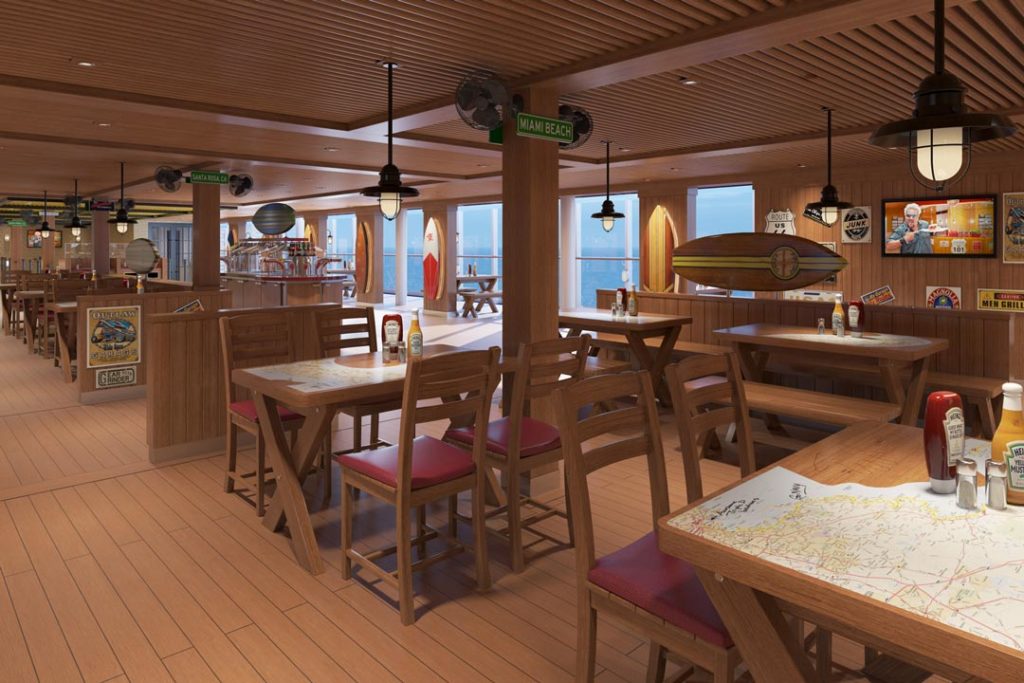 Circle C is the best place for 12 to 14 year olds to meet new friends, play games, watch movies, and take part in fun activities. Club O2 is the teen hangout spot for 15-17 year olds. Both of these dedicated teen spaces can be found towards the back of Deck 17.
---
Deck 18 – Serenity Adult-Only Retreat, Ropes Course, Sports Court, Carnival WaterWorks, Mini Golf
At the front of Deck 18 is the Serenity Adult-Only Retreat area. This free to access spacious quiet zone is the ideal escape for adults looking to unwind. Like other Carnival ships, the Serenity will feature comfortable loungers, day beds, bar, salad station and a hot tub. Unique to Mardi Gras is the addition of the Serenity Pool.
Heading aft, we reach The Ultimate Playground zone, where you can unleash your inner child. This naturally noisier, yet secluded deck has several fun activities. Shoot hoops or score a goal on the Sports Court, or take to new heights on the Ropes Course, this time with adrenaline-filled zip runs.
Carnival WaterWorks will feature a forward-facing mat waterslide, as well as a twister and free-fall slides. All three spiralling slide options are sure to give you a big splash at the end. Surrounding the slides is a giant water dumping bucket, guaranteed to soak anyone who dares to stand under it.
Mini Golf rounds up the fun offerings at The Ultimate Playground. This 9-hole course has several fun obstacles and terrain to avoid.
---
Deck 19 – Loft 19, BOLT: Ultimate Sea Coaster
Reaching the very top decks of the huge Carnival Mardi Gras, you'll find Loft 19 ($), the exclusive area designed for relaxation and indulgence. This retreat-style space is complimentary for guests staying in Carnival Excel Suites. Other guests can still rent one of the shaded Cabanas, which also come with fresh fruit, chilled towels, lunch delivery and concierge service. A drink service is always on hand to provide you with a refreshing beverage, while you chill on the comfy lounge chairs, or take a soak in the infinity pool.
And finally, Carnival Mardi Gras's stand-out feature is BOLT: Ultimate Sea Coaster ($). Ride the very first rollercoaster at sea, reaching high speeds as you zoom around the top decks of the ship! This all-electric thrill ride pits you in the driving seat. You get to control how fast you go. Hit the gas for the time of your life, or take it slow and enjoy the amazing 360 degree ocean views. There's a reason why this is called the Ultimate Sea Coaster! Naturally, due to the low capacity limit, BOLT, does require an additional charge to experience, but this unique ride will be worth the cost.
---
As you can see, Carnival Mardi Gras is shaping up to become the best Carnival ship in history, evolving the brand further, while also staying true to its fun-filled heritage.
One thing is for certain, the wait for Carnival Mardi Gras will certainly be worth it, once she finally sets sail in February 2021.
---