When Carnival Mardi Gras finally launches in February 2021, she will become the largest cruise ship to ever sail for Carnival Cruise Lines. Sailing from Port Canaveral, Carnival Mardi Gras will feature 6 distinct zones and the widest choice of accommodation. Let's take a deck-by-deck look at what we can look forward to onboard the latest fun ship, in this detailed ship tour preview.
Named after the line's first ever cruise ship in 1972, the new Carnival Mardi Gras will carry 5,200 guests. Originally set to debut in August 2020, the ship has been delayed a few times due to COVID-19 and construction delays at the Meyer Turku shipyard in Finland. The latest Carnival ship, which features the first rollercoaster at sea, and six distinct zones, is now expected to set sail on her maiden voyage on 6 February 2021.
---
Navigate Carnival Mardi Gras:
Deck 4 | Deck 5 | Deck 6 | Deck 7 | Deck 8 | Deck 9 | Deck 10 | Deck 11 | Deck 12 | Deck 14 | Deck 15 | Deck 16 | Deck 17 | Deck 18 | Deck 19
---
Deck 4 – Family Harbor Staterooms, Family Harbor Lounge, Camp Ocean

If you're travelling with family, you'll want to try and book a stateroom on Deck 4. This is where the Family Harbor staterooms, dedicated Family Harbor Lounge, and Camp Ocean children facilities can be found.
In terms of accommodation, you can choose from the nautical-themed Family Harbor Interior, Family Harbor Oceanview or the spacious Family Harbor Oceanview Suite. The Family Harbor Interior staterooms are perfect for active families looking to spend as much time away from their stateroom enjoying all the activities onboard Mardi Gras. These staterooms have a square-shaped footprint, while the Family Harbor Oceanview staterooms have a longer rectangular-shaped footprint, with a sofa and cushioned seating by the window, letting in natural daylight from the large picture-window. The Family Harbor Oceanview Suites are even larger with a separate seating area, which can be partitioned off to create a dedicated room for children, complete with their own bedside TV.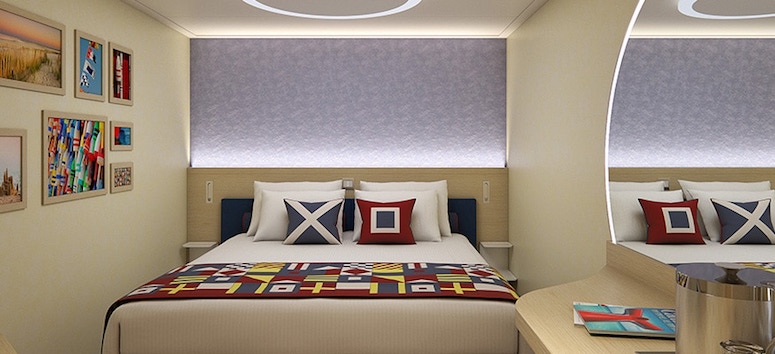 The Family Harbor Lounge is an exclusive spot with breakfast, snacks during the day, plus board games, family movies, video games and more. The benefits of booking these staterooms don't end there. Small children eat free in most onboard specialty restaurants and get a free evening of Night Owls babysitting service, so you can enjoy a little alone time.
Next door to the Family Harbor Lounge and in the centre of Deck 4 is Camp Ocean and Dr. Seuss' Bookville. Camp Ocean is the kids club catering for children aged between 2-11. Penguins is for those aged 2-5, Stingrays for ages 6-8 and Sharks for ages 9-11. This is also where you'll find Dr. Seuss' Bookville, a fun whimsical library for kids.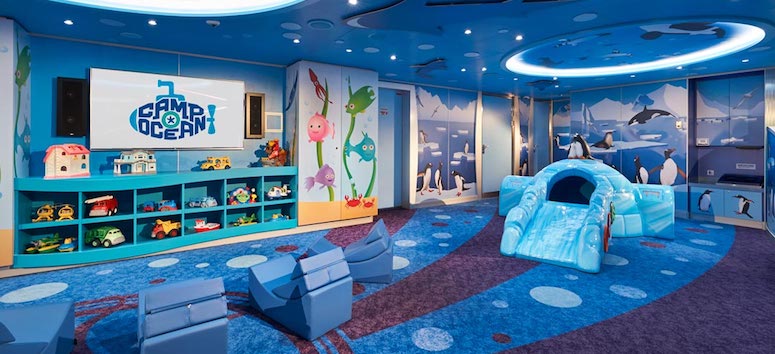 ---
Deck 5 – Cloud 9 Spa, Cloud 9 Spa Staterooms, The Chef's Table
A growing trend among many new ships is the relocation of the Spa complex to the lower decks of the ship. On Carnival Mardi Gras, the Cloud 9 Spa ($), along with its thermal spa, treatment rooms, thalassotherapy pool, hair & beauty salon, as well as dedicated Cloud 9 Spa staterooms can be found on Deck 5, although the main public entrance and fitness centre is located above on Deck 6.
Upon entering the Cloud 9 Spa, you'll feel a sense of calm with natural wood accents, white marble counters, and rainforest green furnishings. The soothing treatment rooms offer an oasis for traditional spa services like massages, facials and body wraps. Carnival Mardi Gras features a much larger thalassotherapy pool compared to previous ships. Access to the thalassotherapy pool and thermal spa is at a charge, although complimentary for those staying in Cloud 9 Spa Staterooms. Prices are as follows: Daily Pass is $40 per person; 4 days is $79pp; 5 days is $99pp; 6 days is $119pp; 7 days is $139pp; 14 days is $279pp.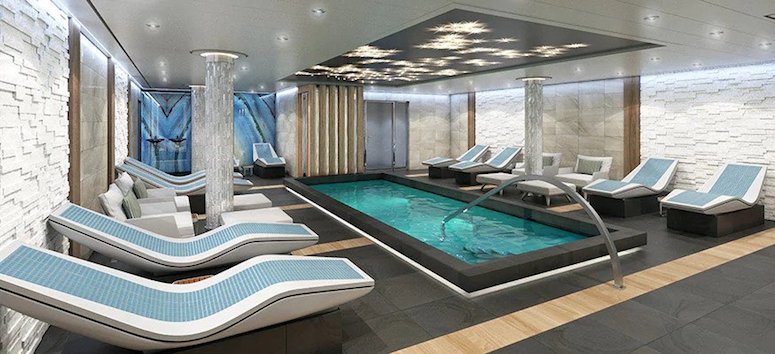 Following the same soothing colour palette as the spa complex, the Cloud 9 Spa Interior staterooms offer a tranquil place to return after a busy day exploring ashore. The larger, rectangular-shaped Cloud 9 Spa Oceanview offer more premium spacious surroundings to unwind, with the addition of a sofa and unspoilt natural views to the outside. Alternatively, for some extra space, the Cloud 9 Spa Balcony features a private sheltered or clear view veranda.
The even larger Cloud 9 Spa Suite has a lounge, which can be partitioned off from the bed area, and an unobstructed balcony, letting in natural golden hues from the Caribbean sun, although these suites are actually located away from the rest of the Cloud 9 Spa accommodations and situated on Deck 17. All Cloud 9 Spa staterooms come with bathrobes and slippers, Elemis toiletries, priority spa reservations, unlimited access to the thermal suites, free fitness classes, and exclusive discounts.
Located deep within the galley at the back of Deck 5 is Chef's Table ($), the exclusive fine-dining experience at the heart of the action. Hosted by the Master Executive Chef, you'll also be given a fascinating tour of the galley.
---
Deck 6 – Theater, Punchliner Comedy Club, Piano Bar 88, JavaBlue Cafe, Cherry On Top, Grand Central, French Quarter
Deck 6 is where the layout of Carnival Mardi Gras drastically changes from previous Carnival ships. A more traditional theatres replaces the flexible seating layout of the Liquid Lounge found on other Carnival vessels. The new Mardi Gras Theater will give better sight lines, but perhaps lacks the aesthetic personality of other theatres at sea. The entertainment on offer will make up for any lack of design, such as the highly-anticipated new Family Feud Live, and the incredible Playlist Productions.
On Carnival Mardi Gras, The Punchliner Comedy Club will get its own dedicated venue, hosting incredibly hilarious stand-up comedians and improvisational comedy.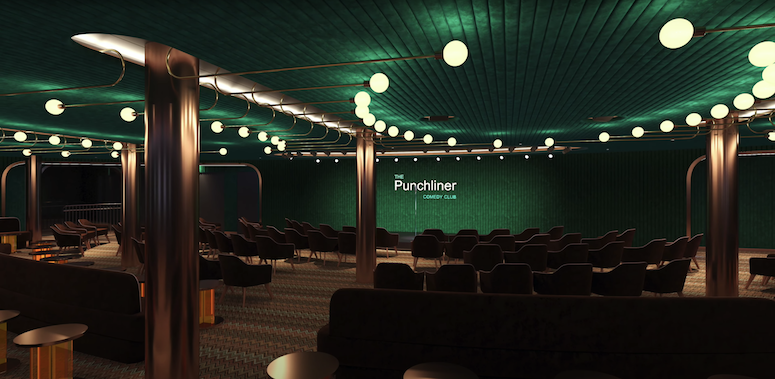 A signature on Carnival ships, Piano Bar 88 is a popular evening venue, where guests sing along as a pianist plays. The piano is surrounded by an iconic curved table, resembling the black and white keys of a piano.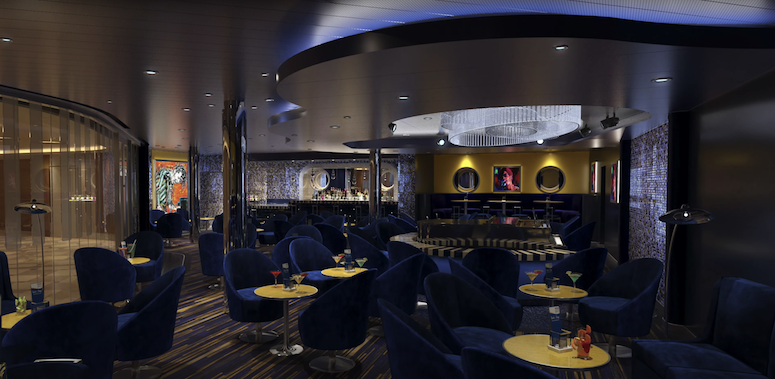 A more refined, JavaBlue Cafe ($) will be popular for those who enjoy speciality tea or coffee. Here, you'll also be able to enjoy some irresistible cake, hearty soups, healthy salads, and fresh sandwiches. Items will be priced individually.
Cherry On Top ($) remains as colourful as ever on Carnival Mardi Gras. This sugar-filled room has a mouth-watering range of candy, chocolates and Pick n Mix available for purchase as a souvenir or onboard treat.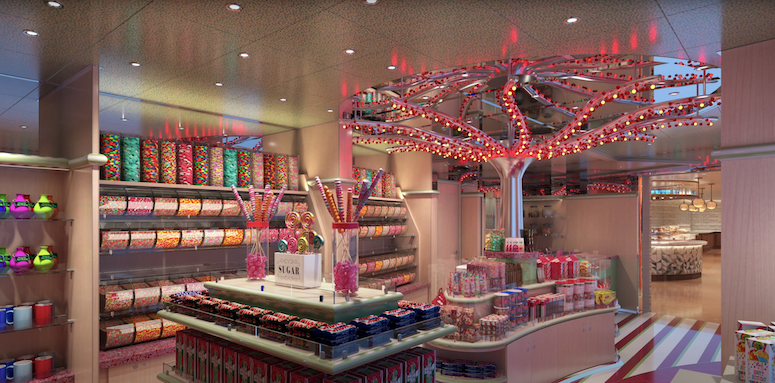 Grand Central is a real focal point of the ship. Unlike the majority of cruise ship atriums, which span several decks in the middle of the ship, this one is offset to the starboard side flanked by huge floor-to-ceiling windows, giving unrivalled vistas of the ocean. There is a stage for performances and an art deco focal ceiling installation inspired by the 1972 ship, which Mardi Gras bears the same name. In the evening, Grand Central becomes an entertainment hub, with a moving video wall.
Moving past The Fun Shops, French Quarter is a new concept for Carnival Cruise Lines, inspired by the famous New Orleans neighbourhood.
The deep purple velvet decor suggests The Fortune Teller ($) has a rich history, and possibly something a bit more mysterious. High spirits are common place here, and talented bartenders conjure up other worldly drinks like the all-black New Moon, the colour changing Abracadabra, plus the Golden Galaxy, made with actual bits of authentic gold.
The stylish Brass Magnolia ($) fuses two icons of New Orleans: its amazing jazz and the historic Garden District. Get lost in the music as you listen to the live jazz and blues from the resident band, while enjoying classic cocktails. Step further into this venue and be amazed as the bar opens up into an elegant vaulted ceiling spanning two decks with a vibrant gold bar in the centre surrounded by lush greenery wall accents. The ornate decor is reminiscent of the grand mansions of the South.
Completing the French Quarter is Emeril's Bistro 1396 ($). World-renowned chef and restaurateur Emeril Lagasse's first seagoing restaurant is named after the hull number of Carnival Mardi Gras at the Meyer Turku shipyard in Finland. Signature dishes including cochon de lait po-boys and his famous barbecue shrimp, as well as Creole favourites including gumbo and jambalaya.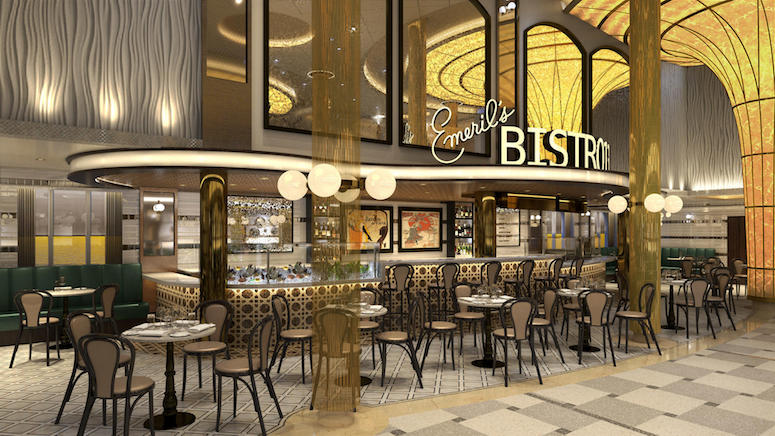 First introduced on Carnival Panorama, Carnival Kitchen ($) is designed to let you have fun with cooking and learn new skills to impress friends and family when you return home. Perhaps it's learning to roll sushi, make a hearty home-made soup, become a master of cupcakes or simply just improve your daily cooking techniques, you'll definitely cook up a new found passion when you return to your home kitchen.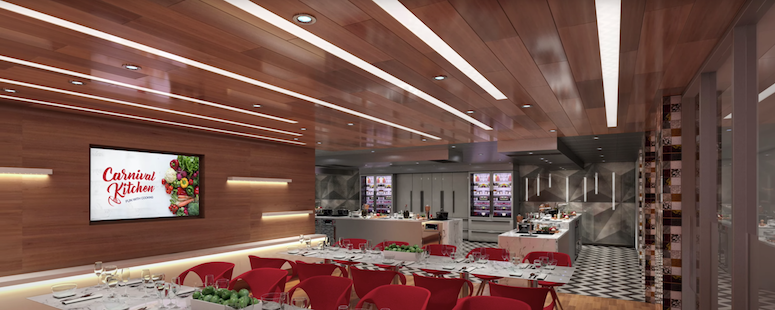 The Flamingo Restaurant is one of the main dining venues on Carnival Mardi Gras and although modern and contemporary, it does lack some character. In contrast, Palm Restaurant is a much more visually impressive and stylish restaurant spanning two levels. The timeless architecture and lighting give this restaurant lots of charm and grandeur.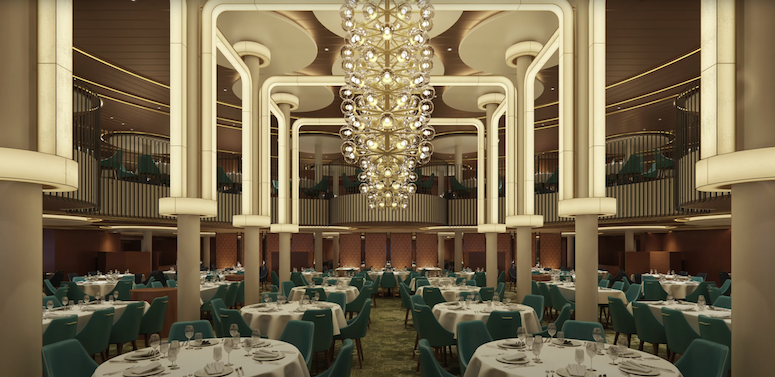 ---