---
Navigate Carnival Mardi Gras:
Deck 4 | Deck 5 | Deck 6 | Deck 7 | Deck 8 | Deck 9 | Deck 10 | Deck 11 | Deck 12 | Deck 14 | Deck 15 | Deck 16 | Deck 17 | Deck 18 | Deck 19
---
Deck 7 – Casino, Limelight Lounge, Alchemy Bar, Farenheit 555 Steakhouse

The expansive Mardi Gras Casino ($) is adjacent to the theatre and Grand Central. The casino has pleasing views of the ocean and there is an impressive range of slot machines and tables, as well as its own bar. Smoking is permitted in the casino.
The Limelight Lounge will be able to host more multi-purpose events now that the Punchliner Comedy Club has its own dedicated venue. The lounge is likely to be used for trivia, live music and karaoke.
Along the two-storey esplanade that connects the restaurants to French Quarter and Grand Central is the popular Alchemy Bar ($). Here, talented mixologists will create unique custom cocktails for you. Choose from enticing spirits, fresh juices, infused syrups and spices, and watch your creation come to life.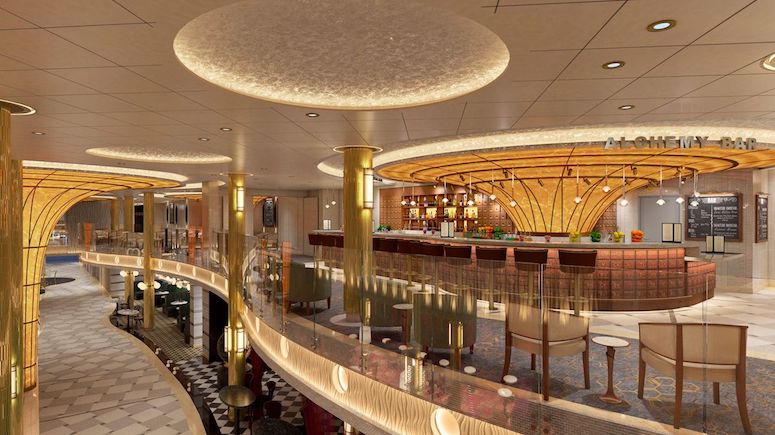 Carnival's signature steakhouse, Farenheit 555 Steakhouse ($) offers a more refined experience compared to other Carnival cruise ships and has its own wine bar located by the entrance.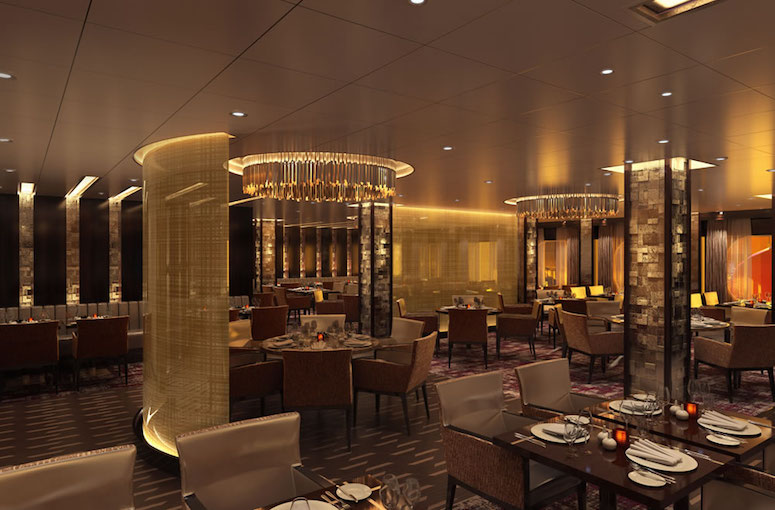 ---
Deck 8 – Havana Staterooms, Havana Bar & Pool, JiJi Asian Kitchen, Bonsai Teppanyaki & Sushi, La Piazza, Rudi's Seagrill, Guy's Pig & Anchor Smokehouse, Summer Landing Pool
At the front of the ship on Deck 8 are the Havana staterooms. If booking a Havana Interior stateroom, it is worth checking the deck plan as some come in a square configuration, while the majority will be rectangular. All staterooms feature the same vibrant Cuban-inspired decor, although its the Havana Cabana staterooms that offer the extra wow factor. These staterooms are much longer and include a sofa, but the star feature is the private terrace area which also gives direct access onto the exclusive outside deck space for Havana guests. The Havana Cabana Suite offer extra living space with a partitioned sitting area and a hammock on the sun terrace.
Havana stateroom guests get exclusive access to the Havana Bar ($) and also the Havana Pool and sun deck. This exclusive retreat area can only be accessed by residents, so you will always find an available lounger away from the main public spaces. The Havana Bar becomes a hot dance spot when the sun goes down, so grab a seat and order a handcrafted Cuban cocktail.
A modern restaurant inspired by an ancient society, JiJi Asian Kitchen ($) serves up enticing and exotic Asian cuisine designed to challenge and delight your senses.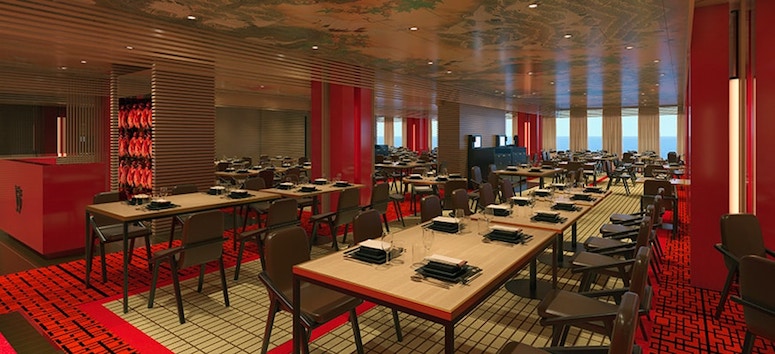 On Carnival Mardi Gras, Bonsai Teppanyaki & Sushi ($) now both have views to the outside. Bonsai Teppanyaki is so much more than just a meal, or even a performance. It's an unforgettable experience. Sit down to a selection of tempting appetisers, before your chef prepares the main course featuring selections of meats, tofu, fish, shrimp or lobster, all cooked right at your table. In the teppanyaki tradition — and Carnival's tradition of fun — expect an interactive, satisfying meal full of surprise and delicious delight.
Bonsai Sushi offers a delectable menu of sushi options with sit-down service. Rounding out the meal, why not try one of the soups, sides, sakes and desserts?
La Piazza is Carnival Mardi Gras' Mediterranean-themed zone. Popular among Carnival cruisers is Cucina del Capitano ($), an authentic Italian restaurant with large plates of delicious Italian favourites served family-style. Take a closer look at the walls and discover that they are adorned with old snapshots from Carnival officers' personal family albums, proving that the rustic Italian-farmhouse atmosphere definitely isn't just for show. Alternatively, why not dine alfresco on the lanei.
Pizzeria del Capitano is open 24 hours and offers complimentary cooked-to-order pizzas made the traditional Italian way. Whether you decide to dine here, or take away, you can choose to have a full pizza or individual slices.
Rudi's Seagrill ($) is a new speciality restaurant on Carnival Mardi Gras and the brainchild of chef Rudi Sodamin. This new fine dining restaurant serves delectable seafood classics, excellently presented. The focus here is seafood, but his signature face-based food dishes are bound to get people talking, and your taste buds beaming! This venue seamlessly transports guests outside with large panoramic windows and outdoor seating, getting you as close to the sea as possible.
Guest Services is uniquely located aft on deck 8, near the entrance to the Summer Landing zone. Guy's Pig & Anchor Smokehouse | Brewhouse ($) is Guy Fieri's new joint. Enjoy classic BBQ food, such as brisket, sausage, ribs, and chicken, all smoked over hickory and apple wood.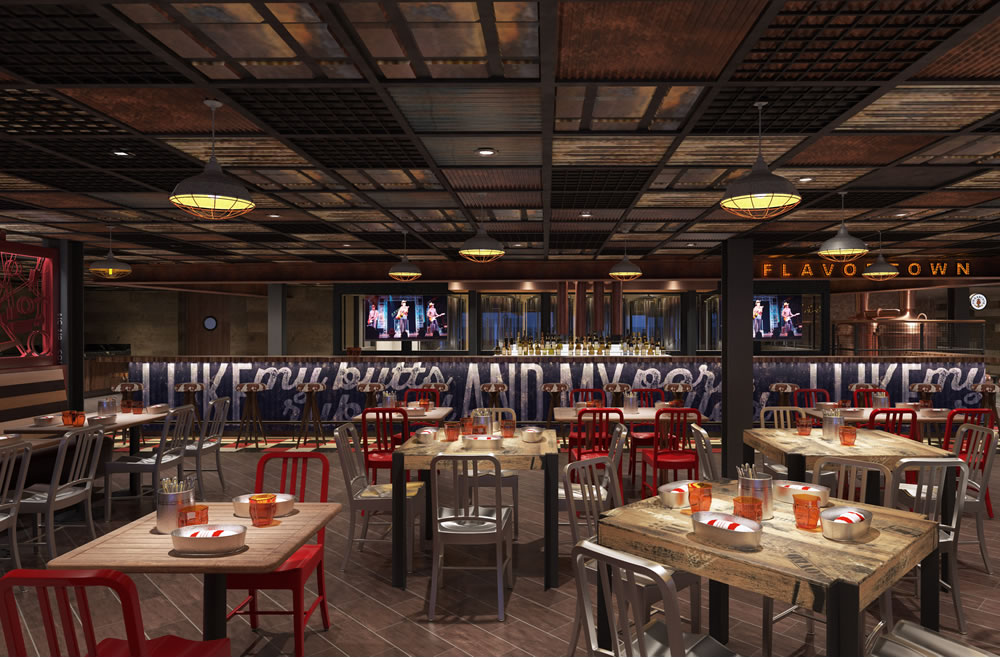 With amazing food on offer, it's important drinks are equally as good. You'll find an extensive range of beers and craft brews. Carnival Mardi Gras will have its own brewery and a pro brewmaster, creating an exclusive line of Parched Pig® craft brews — a smoked porter, a farmhouse ale, a hoppy IPA and a toasted amber.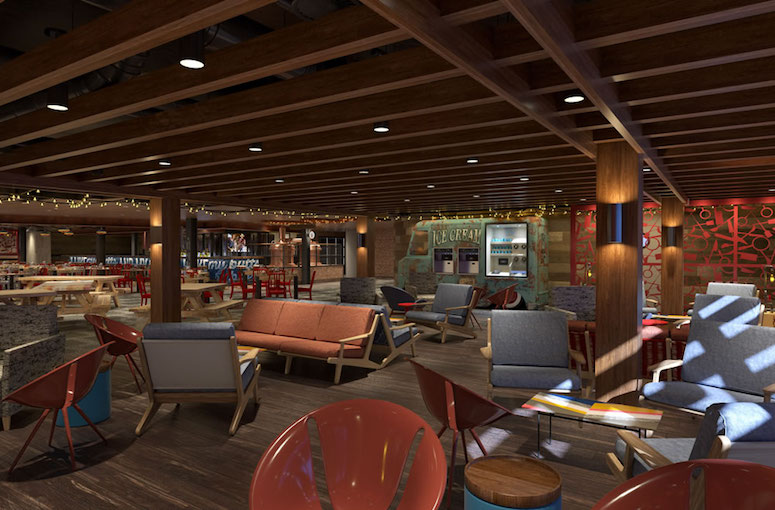 So that's the food and drink sorted, now how about the atmosphere? Guy's new place has it all. Live music with performers will get you cheering and dancing in no time. You'll also find a complimentary swirls ice cream cart.
Our top tip is to come here during lunchtime, when you can enjoy BBQ favourites from the menu free of charge, with no need to pay the usual a la carte pricing – I'll happily say "cheers" to that!
Leading out from Guy's Pig & Anchor is the Summer Landing Pool. This infinity-style pool offers unmissable sea views over the aft and water beds and two larger whirlpools on the side of the lanei.
---